We design and create custom apparel and accessories full of Eagle school spirit and pride using our advanced tools and equipment. We are passionate about creating Hartland, MI spiritwear that encompasses your dedication to your school, teams, and clubs. Our custom gear is perfect for students, alumni, faculty, staff, and loved ones to show support by sporting their favorite school.
Team Shirts
Our experts design and create team shirts for sports, academics, or other organizations. With high quality screen printing or vinyl transfer equipment, we are able to add numbers, names, images, and more for your sports and academic teams and clubs including:
Soccer
Hockey
Football
Dance
Cheer
Baseball
Science Olympiad
Drama Club
And Much More!
Hartland Varsity Jackets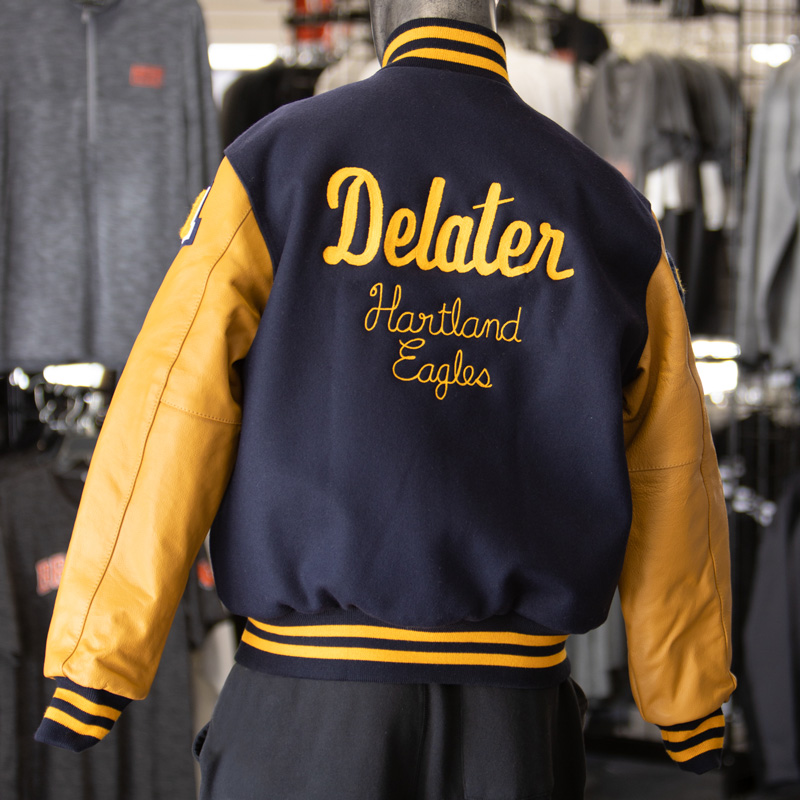 Show off your spirit, pride, and accomplishment with our custom varsity jackets. We offer different color combinations to match Hartland's school colors. Our experts create custom chenille patches in-house using our advanced equipment for the best Hartland, MI spiritwear. Choose from our large selection of patches and letters, or create your own design using our Design Studio. Names, sports teams, graduation years, numbers, and lots more can be added to our varsity jackets.
Boosters
If you're looking to raise money for your school, whether it be for supplies, a trip, or other activity, boosters are a great way to get the community together and support your cause while sporting fun and fashionable apparel and accessories. Kensington Valley Varsity offers custom Hartland, MI spiritwear that is perfect for raffles and for sale at sports events. We design and create t-shirts, sweatshirts, backpacks, hats, and much more.
Contact Kensington Valley Varsity to showcase your Eagle pride and get started on your custom Hartland, MI spiritwear.